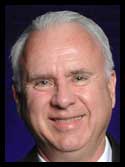 Carl D. Miller
President
Carl Miller enjoys living in Florida, and working as a glazing subcontractor since 2005, mostly in the Tampa Bay area. Licensed as a GC in two states now (after 30 years in his own companies in three states), he guides the direction and ensures the implementation of the business plan.
By supporting the very competent project managers and foremen on the Tab Glass teams, he monitors the glazing scope completion to the satisfaction of our customers, mostly General Contractors and Construction Managers, and their customers. He strives daily to maintain the efforts to deliver the best work in place, on time at the time.
Connections to business related groups like ABC, BOMA, and GCBX guarantee exposure to the marketplace, while involvement with the St. Petersburg Kiwanis Club and the charitable endeavors of various foundations round out his community effort. Special causes continue to be the St Petersburg Free Clinic and the Clearwater Free Clinic.
cmiller@tab-glass.com
Ext. 114