Training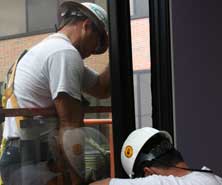 From daily "Tool Box Talks", weekly risk assessments via iPads, equipment certification and unannounced site visits by our own Quality Control personnel, TAB takes Safety Training seriously.
Daily job-site hazard analysis and safety training forms filled out via Company issued Apple iPads utilizing proprietary software developed in-house using FileMaker Go.
Field Crews receive CPR First Aid Training which is conducted annually
Company provides paid training and certification for all job-site equipment. Employees who have yet to receive certification are not allowed to operate equipment. Our centralized database alerts Operations when an employee is scheduled for a position requiring certification.
Fall Protection Training is provided to teach field personnel to trust thier safety harness and the value in using it.
All Foremen and Crew Leaders have OSHA 30 certification. All other field and facility personnel not in leadership positions have OSHA 10. Training is paid for by the company.
All new hires are required to pass an online Glass Handling course prepared by the National Glass Association and demonstrate their proficiency with our Quality Control Manager.
TAB utilizes a third-party safety expert to occasionally conduct job-site reviews to ensure our internal safety controls are effectual
TAB's Quality Control Manager conducts weekly unannounced job-site visits to first warn and if repeated mistakes occur, discipline offenders for not following safety protocols.
Equipment
TAB takes pride in providing all the equipment our crews need in order to ensure the highest installation standard and safety.
Company issued Safety Harnesses, Retractable Lanyards, Hard Hats, Glass Handling Gloves, Uniforms, Scratch-Proof Belt, Hearing and Eye Protection.
OSHA approved engineered glass racks for Aerial Boom Lifts and Rough-Terrain Fork-Lifts.
Woods Powercup Glass Handling Systems.
OSHA approved fiberglass ladders.
Company issued glass handling cups which are maintained via corporate checks.
Company pays for all maintenance on both company issued and employee owned tools used on job-sites to ensure safety.
Professional Swing Stage and Scaffolding erection and disassembly including site and rigging checks.
Record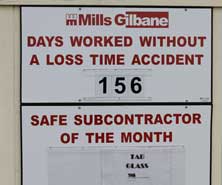 We listen to our crews. Anyone who voices concern is thanked, not scorned. Defective equipment is immediately pulled and replaced. Our central database reminds us when to conduct preventative maintenance checks. We do everything possible to reduce the chances of accidents occurring.
TAB has never received an OSHA warning, citiation or fine.
Our employees frequently are honored with "Safest Subcontractor of the Month" awards from our General Contractor clients.